Kia Loyalty Offer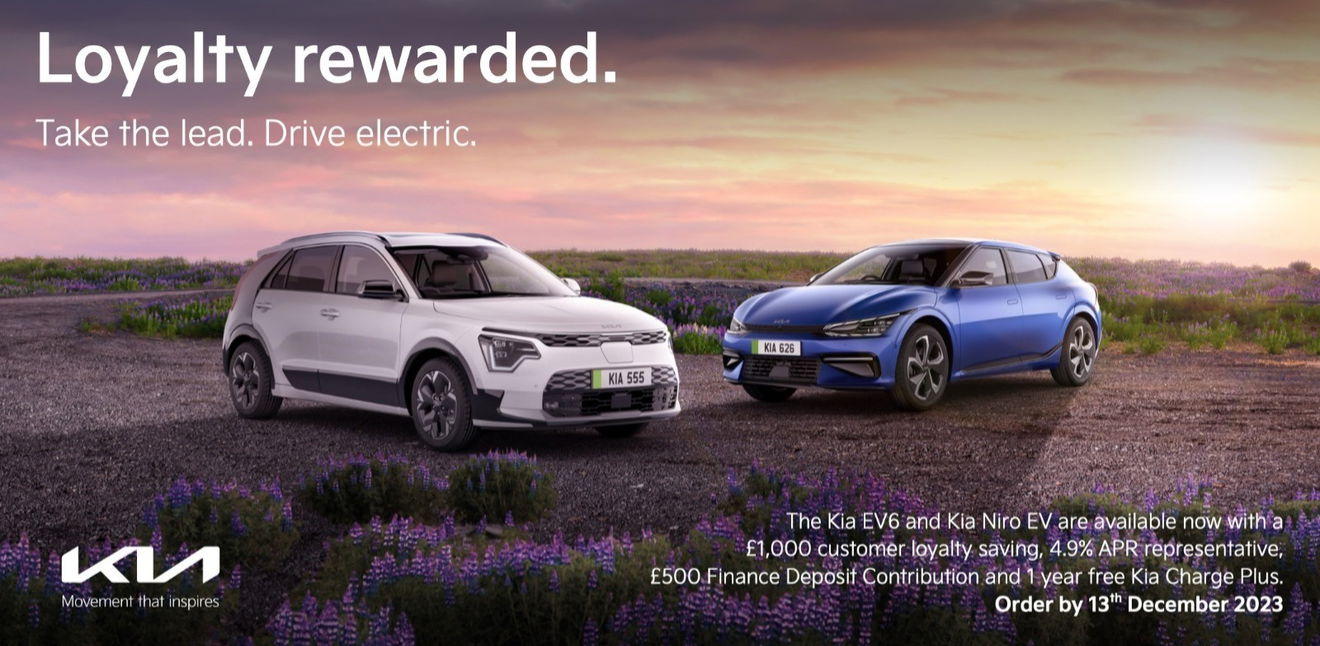 Are you a proud owner of a Kia vehicle?
Your loyalty is about to be richly rewarded! From October 2, 2023, to December 13, 2023, we're thrilled to offer an exclusive loyalty saving of £1,000 (including VAT) for customers who already own a Kia (any model).
If you've cherished your Kia for at least three months before the registration of your new car, you're eligible to take advantage of this remarkable offer.
Whether you've been driving the nimble Kia Niro EV, the stylish EV6, or the captivating Soul EV, you're in for substantial savings on your next Kia electric vehicle purchase.
Here are the key details of this enticing offer: Loyalty Savings: Save £1,000 (including VAT) on your new Kia Niro EV, EV6, or Soul EV.
Eligibility Period: This offer is valid for existing Kia owners who have owned their vehicle between October 2, 2023, and December 13, 2023.
Ownership Duration: To qualify for the loyalty saving, your existing Kia must have been in your possession for a minimum of three months before the new car's registration date.
Customer Type: This exclusive offer is available for private customer registrations only, and it does not apply to Personal Contract Hire.
Discover the future of driving with Kia's innovative electric vehicles and enjoy the benefits of loyalty. Embrace sustainable, eco-friendly transportation while saving big on your purchase.
Don't miss out on this limited-time offer.
Upgrade to a new Kia EV today and experience the future of electric mobility with exceptional savings.
Your loyalty deserves to be rewarded, and we're here to make it happen.
To learn more and take advantage of this incredible loyalty offer, visit your nearest Chapelhouse Kia dealership or contact us today.

Hurry, this offer ends on December 13, 2023, so secure your savings now!
£1,000 (inc. VAT) loyalty saving on the price of a new Kia Niro EV, EV6 & Soul EV for customers who own an existing Kia (any model) between 02.10.2023 and 13.12.2023. The vehicle must have been owned by the new car customer for a minimum of three months prior to the new car's registration date. Private customer registrations only, excluding Personal Contract Hire.