Kia Servicing
We know how important it is to get your car serviced and here at Chapelhouse Kia, we love to help make sure your Kia is running smoothly so you can continue to drive worry-free. At Chapelhouse Kia, it's a priority to help you get back on the road, therefore we recommend that your car is serviced every 12 months from the date of first registration or by mileage, whichever occurs soonest.

To ensure your Kia is running smoothly we must align your next service with the anniversary of the first date of registration again and not 12 months from the date that this delayed service was completed. By doing this, we can replace key components and fluids on a time basis, e.g. replacement every 2 years.

This will also ensure that the manufacturer's warranty is not affected by service requirements.
Kia Care Service Plans

Kia Care is our service plan package tailored to suit the age and mileage of your car - making life easier for you and keeping your running costs down

Excellent value for money.

Fixed cost and inflation proof servicing.

Your vehicle will receive a full Kia service history, enhancing your resale value.

Packages are transferable to the new owner if you sell your car.

Our Kia trained technicians will only use genuine Kia parts, using the Kia service tools and diagnostic equipment.
Appointments - Book an appointment that suits your schedule.
Friendly Welcome - You will receive a friendly welcome from the team when entering our service area.
Diagnosis - We listen to what you have to say and take the time to discuss the repair options.

Repair Orders - Before starting any service work on your Kia, we'll review the repair details with you to make sure you're happy.
Pricing - Our pricing policy is transparent.
Performing Service Work - Your service will be performed to the highest standard and with accuracy.

Monitoring - We'll keep you informed regarding repair progress and any changes in timing.
Final Inspection - After servicing, the repair is cross-checked and quality controlled to ensure that all work has been completed to the highest standard
Vehicle Collection - When you arrive to pick up your Kia, we'll explain the repair details and answer any questions you may have.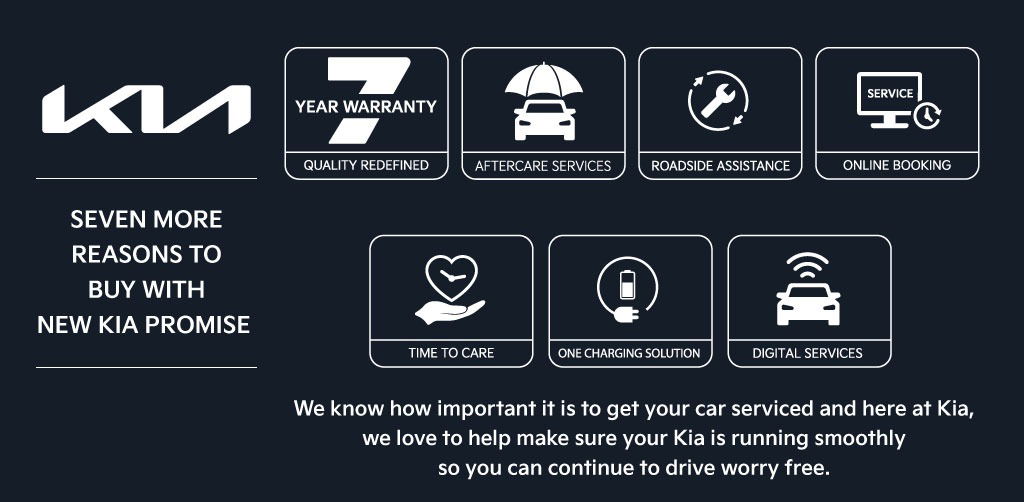 Kia Servicing

Want to know more? Contact our Kia Service team today and we'll get in touch.
Contact Us