The New Kia Ceed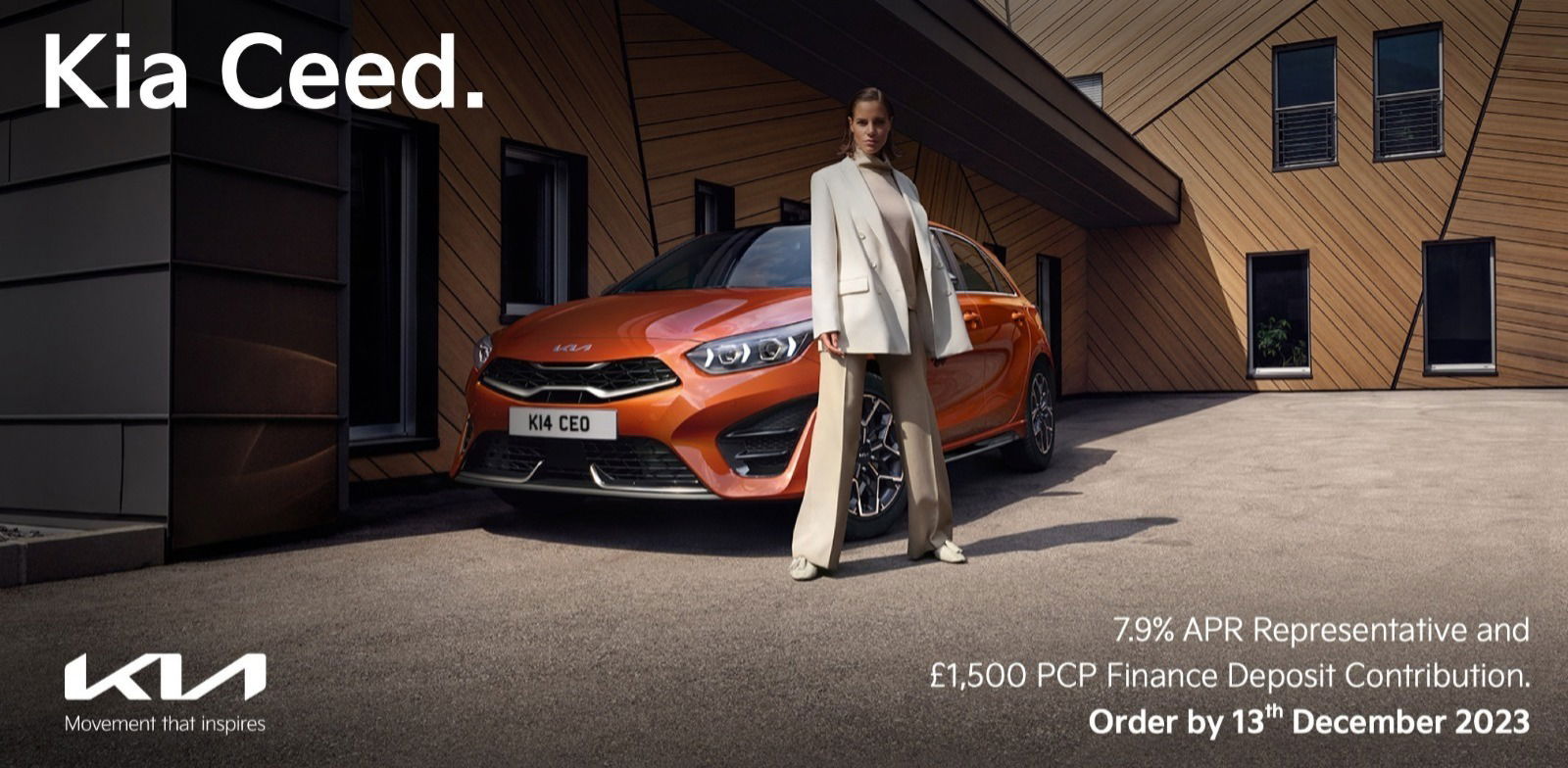 Carrying over the sporty, emotional design character of the Stinger, the Ceed conveys a more self-confident new look - one that is both emotive and precise in its execution.
Kia Ceed
'GT-Line' 1.5 Turbocharged
1.5L
Petrol
Manual
5 door
£210 Road Tax
51.4 Mpg
7.9% APR £1,500 Kia Finance Deposit Contribution & 7 Year Warranty
View
1.5L
Petrol
Manual
5 door
£210 Road Tax
49.6 Mpg
Kia Business Contract Hire | VAT @ 20%
View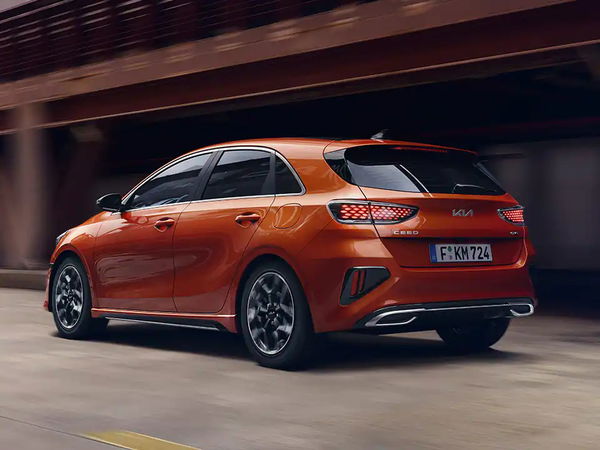 Kia Connect On-Board Services
Live updates while you're on the road? Kia Connect services provide your Kia with a variety of connected services such as live traffic data for the best possible navigation. Search for a destination using the internet, and even find out live fuel prices or public parking on the go!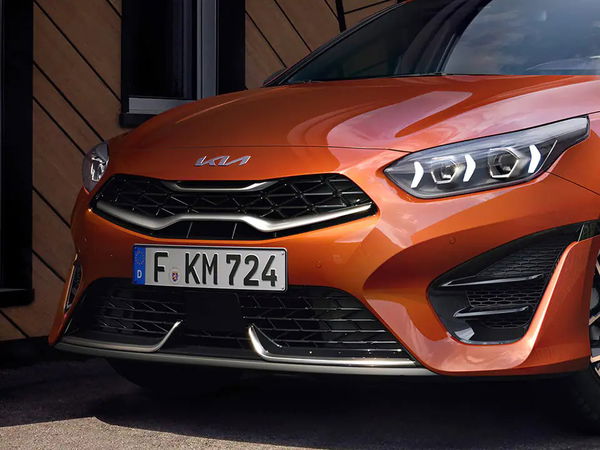 Kia Connect App Services
Even if you're not in your car, connect to it and find out the information you need. Get the status of your car, such as fuel level, or check the security and if you locked it. Plan ahead with "Send to Car" to share your route with your car before you even open the door.
Lower, wider, and with a longer rear overhang than the car it replaces, the Ceed's cab-rearward silhouette exhibits a more mature sense of athleticism. Straight lines replace the rounded-off edges of its predecessor, evolving the front of the car with a wider 'tiger-nose' grille and lower air intake, and precise, linear shapes framing its 'face'. The new model features 'ice cube' LED daytime running lights as standard. With a wide range of Kia Ceed accessories available, you can really make it your own.
The Kia Ceed Family
The Kia Ceed comes in a variety of options. Take a look at our special section dedicated to the range including the Ceed, Ceed Sportswagon and the new Proceed.
Ceed Family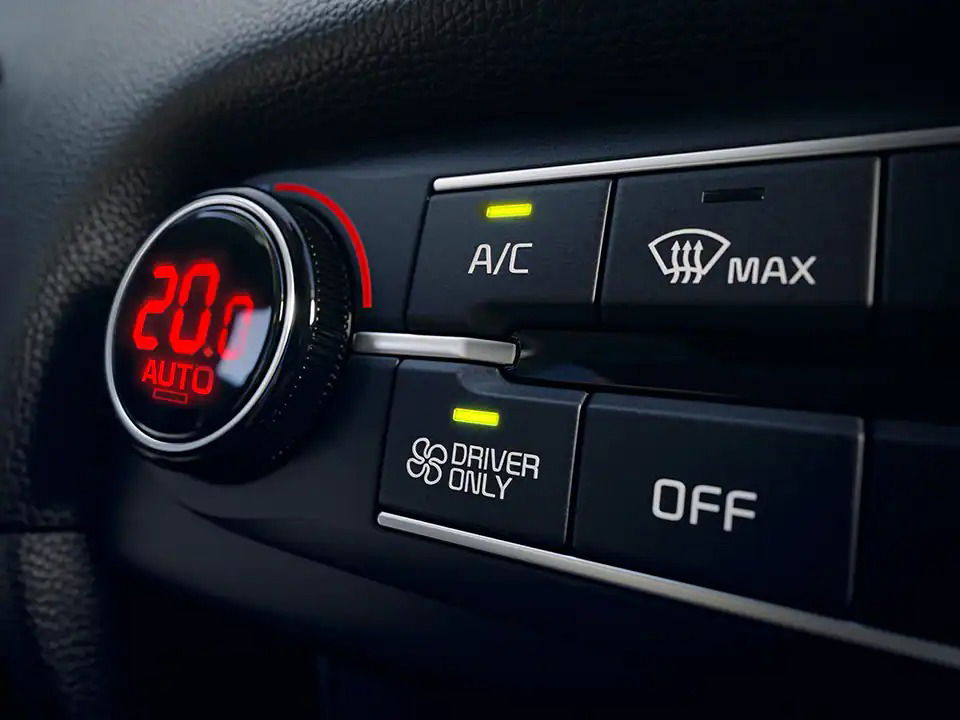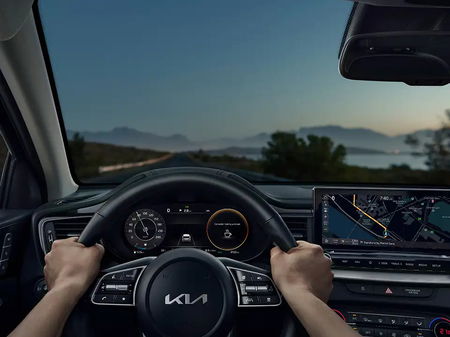 Driver Attention Warning (DAW+)
Safety is key with Kia. The Driver Attention Warning ensures that you're alert and concentrating. Using technology to monitor the steering wheel, acceleration and length of the journey, you'll be alerted if your attention level seems low.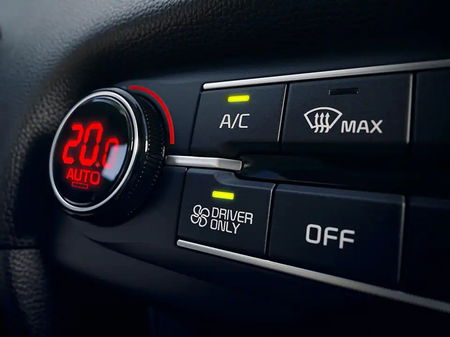 Elevated all year-round comfort
Comfort when on long, and short, journeys is a priority. Whatever the weather outside, you can be sure that inside you'll be able to set your surroundings to suit. Heated front seats and fully automatic dual-zone climate control means you're ready for whatever the British weather throws at you.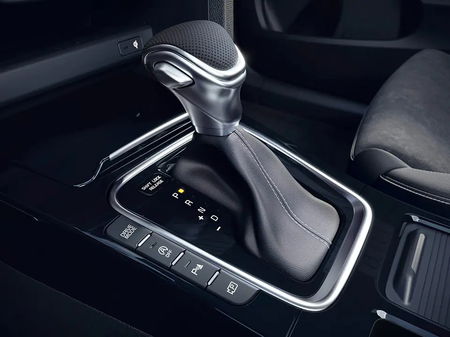 Low-emission, high-power engines
The Ceed family takes charge with a range of engines to fit your needs. Petrol and diesel options are available, while complying with the latest Euro 6d emissions standard. With clever technology you'll feel the drive without the drain at the fuel pump.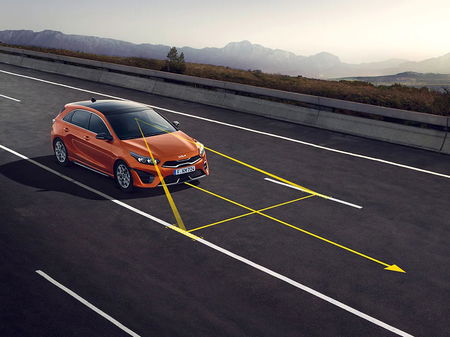 Lane Following Assist (LFA)
Keep you on track on busy roads with the Lane Following Assist. You'll be centred in your lane using a camera in the windshield that monitors the lane markings. Available for all Ceed models with both automatic and manual transmission.
Kia Ceed Mild Hybrid Drive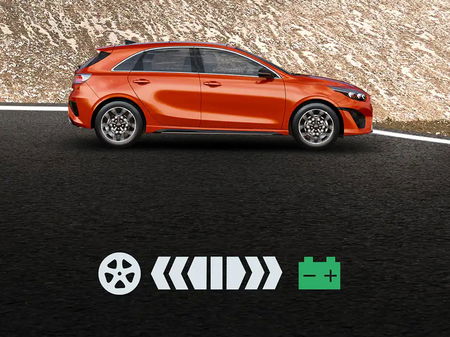 Use smart power assistance.
Get extra power without needing to plug-in. Reducing emissions by pairing a diesel engine with a 48 volt battery, the mild hybrid system in the Kia Ceed can reduce fuel consumption and even better the battery charges itself using kinetic energy.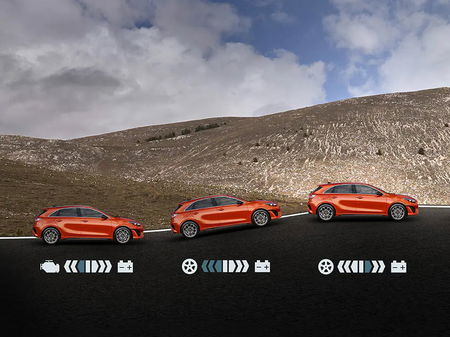 Starting, torque assist, cruising.
Not only is the engine quieter and more fuel efficient, it adds torque when you need it. Going uphill or accelerating, you'll get a boost from the battery. Then when you're cruising along, the combustion engine will top up the charge so you don't even have to think about it, just enjoy the benefits.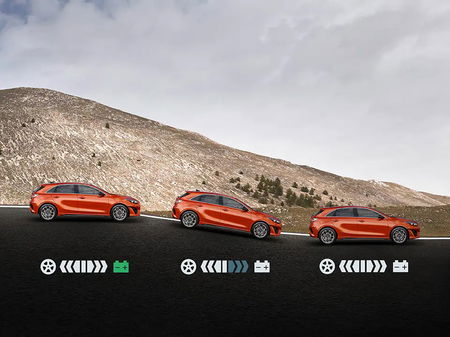 Coasting, recharging, stop & start.
When you lift your foot off the throttle and let the car coast, the engine switches off and further reduces your fuel savings. Plus, when decelerating or braking, the energy that's created by the car moving adds charge to the battery. It's all designed to happen without you worrying about it. Good technology just works.
When it comes to Kia Ceed reliability, you can be safe in the knowledge that every one of Kia's models is covered with a 7-year manufacturer's car warranty - with no hidden small print or nasty surprises. And you can also pass it on: reselling your Kia within the 7-year warranty terms and the new owner will also benefit from the remaining time or mileage. It's just one of the great benefits of the Kia Promise. Giving you greater value for longer. With Kia Cars, you get 7 years of driving pleasure, 7 years of fun, 7 years of adventure, excitement and exhilaration. Not to mention 7 years of lower running costs and 7 years peace of mind.
Step inside and you'll notice the smart new-look steering wheel, new design centre fascia, and 60:40 split-folding 2nd-row seats for space efficiency. The interior specification for the Kia Ceed comes with an in-built Trip Computer as standard, calculating the distance to empty, the Kia Ceed mpg and fuel economy, average speed, trip mileage and journey time elapsed, for efficient travel planning. There are different levels of technology, but deciding which Kia Ceed to buy doesn't have to be complex thanks to a simple system of Kia model variants such as the entry level 2, 3, the Kia Ceed GT or the Kia Ceed GT-Line. We have a wide range of the Kia Ceed for sale and available to view in our Kia Dealerships.
Kia Ceed Accessories at Chapelhouse
Protect your car for longer with accessories at Chapelhouse.
Find Out More
7 Year Warranty
With Kia you get 7 years of driving pleasure, 7 years of fun, 7 years of adventure, excitement and exhilaration. Not to mention 7 years of lower running costs and 7 years of peace of mind
Kia 7 Year Warranty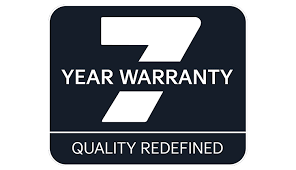 £1,500 towards your PCP Finance Deposit Contribution on Ceed. Offer available on purchase of a new Kia Ceed in the United Kingdom between 02.10.2023 and 13.12.2023. Retail Sales only. Further charges may be made subject to the condition or mileage of the vehicle. Kia reserves the right to amend or withdraw offers at any time without prior notice. Finance T&Cs apply. Subject to status. 18s or over. Guarantee may be required. Kia Finance RH2 9AQ. 7 year / 100,000 mile manufacturer's warranty.