Kia Sorento PHEV
Kia Sorento PHEV
Bring On Anything
---
From £46,445
6.9% APR representative and £750 Kia contribution.
Personal Contract Purchase: Buy it or return it at the end.
Terms apply
Enquire
FUEL CONSUMPTION
Up to 176.6 MPG
ENGINE
1.6 T-GDi
CO2 EMISSIONS
38g/km
Luxurious space, style and comfort
One of the very few Plug-in Hybrid vehicles to offer up to 7 seats, the premium interior is big on space and style. It has been designed to elevate every moment of driving: From the ambient lighting (available on '3' and '4' grade only), to upscale materials and refined finishes. Plus endless comforts like a USB charging port for every passenger. Along with its sleek ergonomics and extra-quiet cabin credentials, you'll see and feel its instant appeal.
Commanding, modern looks
From the rearview too, the all-new Sorento Plug-in Hybrid boasts striking design hallmarks that aren't afraid to leave a strong lasting impression. The vertical LED tail lamps, skid plate with sporty, eye-catching garnish on the rear, slick roof spoiler with a gloss finish and integrated rear wiper, and eco hybrid emblem are just some of the details that make a powerful overall statement.
Kia Sorento PHEV Technology
Wireless Mobile Phone Charging
Enjoy convenient, cable-free charging - simply by placing your compatible smartphone on the charging pad at the front of the centre console as you drive. And for all those with a charging cable to hand, there are USB charging ports integrated throughout the cabin for all passengers to use. Available on grade '3' upwards..
Head Up Display (HUD)
Equipped with high-tech dedicated to heightening the ease and enjoyment of every drive. The Head-Up Display (HUD) projects driving-related information on the windscreen, directly in your line of sight. And mood lighting creates the perfect in-cabin atmosphere. All efficiently powered by the electric motor's high-voltage 13.8 kWh battery. Available on grade '4' only.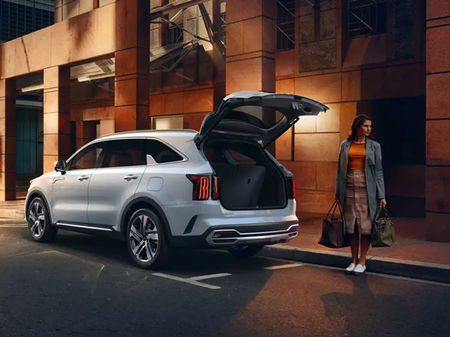 Smart Power Tailgate
Get ready for more spaciousness for all passengers. Plus easier access thanks to an enlarged entrance with a walk-in-and-slide seat button to the third row seats. More comforts include one-touch remote folding buttons for easy seating configurations, and the Height-adjustable Smart Power Tailgate, allowing you to load and unload your trunk with ease even if your hands are full. Available on grade '3' upwards.
7 Year Warranty as standard
With Kia you get 7 years of driving pleasure, 7 years of fun, 7 years of adventure, excitement and exhilaration. Not to mention 7 years of lower running costs and 7 years peace of mind...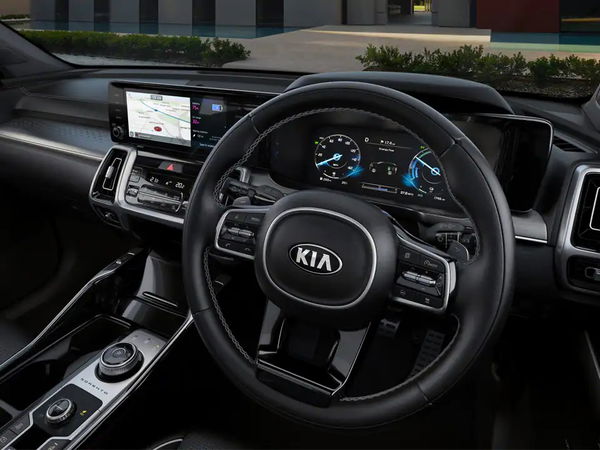 Twin Displays
The navigation presents journey routes and vital information on a 10.25" (available on '3' and '4' grades only) colour high-definition LCD touchscreen. It's also linked to the rear-view camera and compatible with Android AutoTM and Apple CarPlayTM devices and apps2. The 12.3" full digital TFT instrument cluster provides essential vehicle and trip information in high resolution and comes as standard on all grades.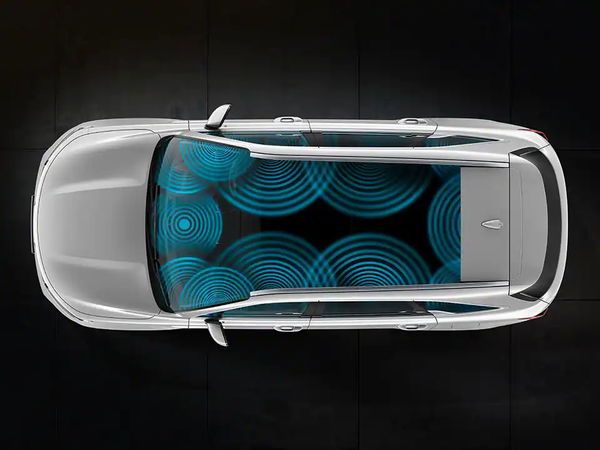 Bose™ Premium Surround Sound
Experience the very best in-car entertainment with 12 speakers, an external amplifier and cutting-edge technology. Transform any stereo or multichannel audio source into an astounding surround-sound experience. Available on grade '4' only.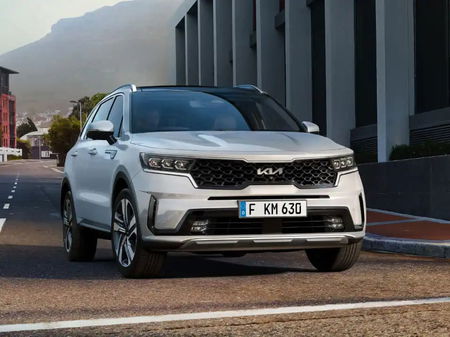 Efficiency, economy & flexibility
Zero-emission driving whenever you need to. Ecological and economical, in the city and beyond: The combined petrol and electric capabilities of the advanced plug-in hybrid system give you the flexibility to drive longer distances, all while reducing CO2 emissions and your overall running costs. Regenerative braking technology even recharges your battery while coasting or braking, maximising efficiency and driving range.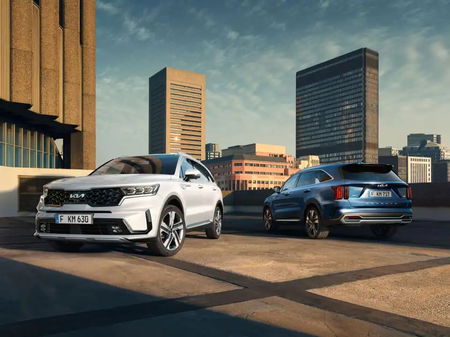 Dynamic Plug-in hybrid driving
Look forward to a low-emission yet powerful ride. Eco-efficiency, impressive power - and no end of driving pleasure. With the all-new Kia Sorento Plug-in Hybrid you can have it all. Thanks to the engaging performance credentials of the T-GDi engine, coupled with an electric motor powered by a high-voltage 13.8 kWh battery. And the effortless enjoyment that comes with such innovations as the automatic transmission control with a shift-by-wire rotary dial gear selector.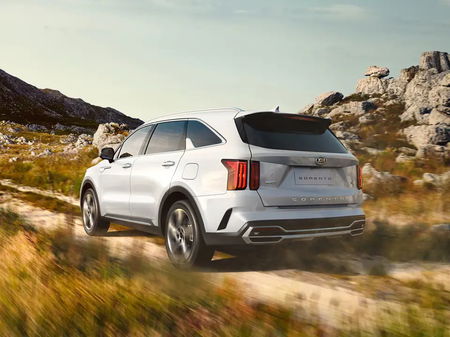 All-Wheel Drive
Take charge of any terrain. Ideal for any adventure beyond the city, the all-wheel drive technology automatically distributes torque and traction to each wheel, for more grip and precision, wherever difficult the driving surfaces and conditions. Terrain Mode Select (TMS) also lets you adapt your drive at the touch of a button, with a host of Drive Modes (Eco, Sport, Smart) and Terrain Modes (Snow, Mud, Sand) to suit your specific journey.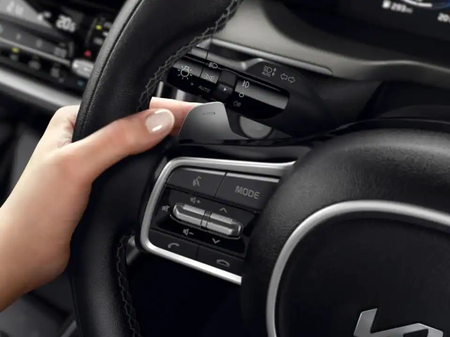 Experience sportiness
Push your exhilaration and enjoyment to the next level. Prepare to be enthralled on the road - with a more sporty driving experience thanks to the power with poise and control of the 261 PS 1.6 T-GDi Plug-In Hybrid engine. Coupled with the engaging enjoyment of the fast-shifting automatic transmission. And paddle shifters for extra-quick, extra-smooth gear changes without even taking your hands off the steering wheel.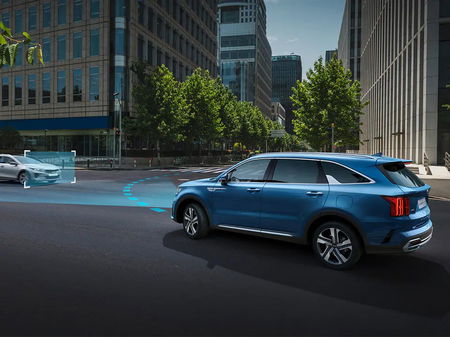 Forward Collision Avoidance Assist (FCA)
Advanced detection of vehicles, cyclists and pedestrians ahead. Evaluating both camera and radar data from your vehicle, the Forward Collision Avoidance Assist (FCA)8 system analyses information about other cars, pedestrians or cyclists crossing the road, to avoid a potential collision. FCA also functions to prevent collisions with vehicles when making a right turn at an junction. If it estimates a potential collision, a warning signal appears on your instrument cluster and maximum braking power is applied.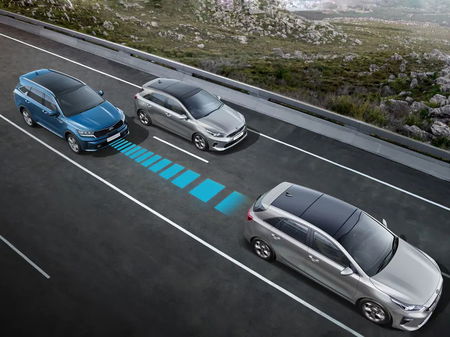 Smart Cruise Control (SCC) with Stop & Go
Effortless cruising by maintaining a safe distance from the vehicle directly ahead. SCC maintains the speed specified by you, the driver, and computes the relative position and speed of the vehicle directly ahead using its front view camera and front radar to ensure a safe distance between the two vehicles. The system controls acceleration and deceleration to make sure your Sorento stops when the other vehicle ahead stops. When the vehicle ahead starts moving again, your Sorento will automatically start moving as well.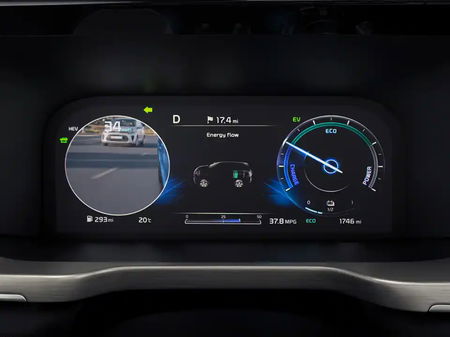 Blind-Spot View Monitor (BVM)
Shows vehicles concealed from driver's view during lane changes. Designed to improve visibility for blind spots, BVM uses side cameras so that when you indicate left or indicate right, your instrument cluster shows the view of the road in your blind spot. Indicate left and it will show you the rear view down your left-hand side; indicate right and it shows the right-side view. Available on grade '4' only.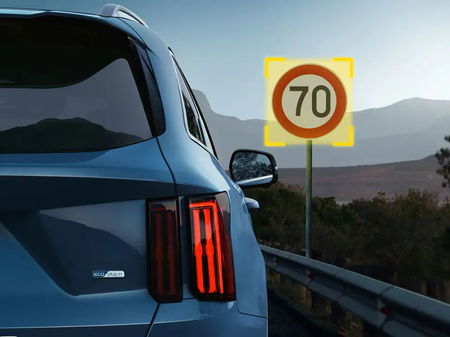 Intelligent Speed Limit Assist (ISLA)
Easily adjust your speed according to the speed limit. When you choose to use ISLA, the system uses a camera to read speed limit signs along the road, and displays them beside the speedometer and on the navigation screen. You can then decide to set your speed to the road speed limit or override it.