Kia Sorento
Kia Sorento
Bring On Anything

---
From £40,590
6.9% APR representative and £750 Kia contribution.
Personal Contract Purchase: Buy it or return it at the end. Terms apply - scroll to bottom to view.

Enquire
DESIGN AND STYLING
Its resilient and bold design serves an unmistakable statement at first glance - with sophisticated features to match: Full LED headlamps, a striking new angular front grille design, a vibrant BOSE sound system and a wide range of smart UVO Connect features are just a few reasons why the Kia Sorento is the perfect choice for those who are born to make the first move.
FUEL CONSUMPTION
Up to 40.9 MPG
ENGINE
1.6 T-GDi
CO2 EMISSIONS
158g/km
Explore Hybrid Technology
Enjoy a powertrain that's high-tech, agile and low in emissions. Pairing the 1.6-litre turbocharged petrol hybrid engine with an electric motor powered by a 1.49 kWh (64 kW discharge / 49 kW charge) lithium-polymer battery pack, the Kia Sorento Hybrid strikes an ideal balance between optimum fuel efficiency and low emissions. The Sorento is also available in a 2.2 diesel engine..
Hybrid Driving Efficiency
From hills to curves, take on every road with maximum fuel economy. Ecological and economical, in the city and beyond: As well as reducing CO2 emissions, the fuel efficiency of the Kia Sorento's intelligent hybrid system also reduces overall running costs as a result.
Wireless Mobile Phone Charging
Simply place your compatible mobile phone on the wireless charger and that's all you need to do! No more messing with wires, just put your phone in a safe place and charge as you go.
10.25" Seamless Touchscreen Navigation System
With a built in infotainment system, you can get around easily using the navigation with real-time updates and more! A clear, 10.25-inch floating touchscreen complete with Android Auto™ and Apple CarPlay™
Head Up Display (HUD)
Embrace more technologies dedicated to heightening the ease and enjoyment of driving. The Head-Up Display (HUD), which projects driving-related information on the windscreen, directly in your line of sight, so you can keep your eyes on the road. Available on grade '4' only.
7 Year Warranty as standard
With Kia you get 7 years of driving pleasure, 7 years of fun, 7 years of adventure, excitement and exhilaration. Not to mention 7 years of lower running costs and 7 years peace of mind...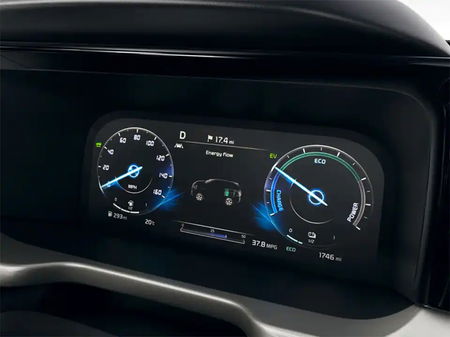 The Best of Both Worlds
Seriously well-equipped: with both a petrol engine and electric motor. The Sorento Hybrid employs a sophisticated parallel hybrid system, switching between petrol and electric power, or using a combination of both. Meanwhile, the Regenerative Braking System converts kinetic energy to recharge the battery. This greatly reduces emissions on everyday journeys yet still offering flexibility and versatility.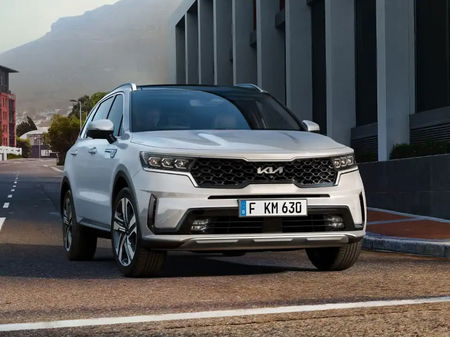 Forward Collision Avoidance Assist - Junction Turning
Evaluating both camera and radar data from your vehicle, the FCA system analyses information about other cars, pedestrians or cyclists crossing the road, to avoid a potential collision with them. FCA also functions to prevent collisions with vehicles when making a left turn at a junction. If it estimates a potential collision, a warning signal appears on your instrument cluster and maximum braking power is applied.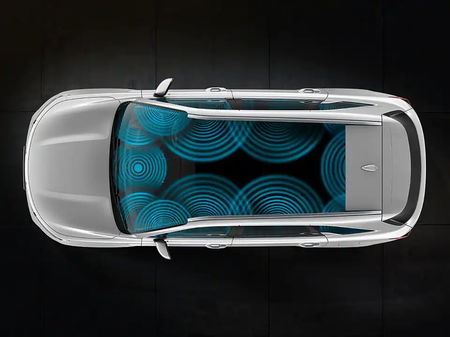 Bose™ Premium Surround Sound
Experience the very best in-car entertainment with 12 speakers, an external amplifier and cutting-edge technology. Transform any stereo or multichannel audio source into an astounding surround-sound experience. Available on grade '4' only.
Panoramic Sunroof
The Sorento '4' features a large twin-section sliding panoramic sunroof which fills the cabin with light for maximum appeal and brightness. One-touch motor driven roll blinds with a sliding safety function block the sun to provide shade whenever required.
All features listed not necessarily available on all derivatives
OTR pricing is subject to change. (New emissions regulations have resulted in a revised testing procedure, which could result in higher fuel consumption and CO2 emissions figures. The first year rate for Vehicle Excise Duty (VED) is based on CO2 emissions and any increase in VED would impact on the on-the-road price. The Benefit-in-Kind (BiK) rate and P11D value could also increase.)
5.9% APR Representative with Kia: £750 towards your Personal Contract Purchase deposit on Sorento. Offer available on purchase of a Kia Sorento in the United Kingdom between 15.12.2021 - 31.03.2022. Retail Sales only. Further charges may be made subject to the condition or mileage of the vehicle. Kia reserves the right to amend or withdraw offers at any time without prior notice.
Finance T&Cs apply. Subject to status. 18s or over. Guarantee may be required. Kia Finance RH2 9AQ. 7 year / 100,000 mile manufacturer's warranty. For full terms and exclusions click here. Images shown for illustration purposes only and may not be to UK specification. †Price shown excludes VAT *Some parts of the leather upholstery contain faux leather
**MPG figures are obtained from laboratory testing and intended for comparisons between vehicles and may not reflect real driving results.
***Please check with your dealer for mobile phone compatibility (1) Kia Connect On-Board Services. Touchscreen shown is for illustration purposes and the actual unit differs by model. The services are available free of charge for a period of seven years commencing on the day the vehicle is sold to the first owner of the vehicle, i.e. the point in time the initial purchase agreement becomes effective, and may be subject to change during that period. Details of operation and terms of use can be obtained on your vehicle's head unit. Available On-Board Services might differ depending on your country. Smartphone with data plan required to activate Kia Connect Live Services services in countries and models without embedded telematics. (2) Kia Connect App Services. Information and control service for your Kia from your smartphone; the Services are available free of charge for a period of seven years commencing on the day the vehicle is sold to the first owner of the vehicle, i.e. the point in time the initial purchase agreement becomes effective, and may be subject to change during that period. Details of operation and terms of use can be obtained on your Kia Connect App. Smartphone with iOS or Android operating system and mobile phone contract with data option necessary incurring additional cost.